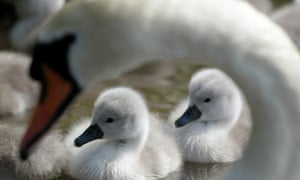 surender gupta dunar: An outbreak of avian influenza has been detected at the historic Abbotsbury swannery in Dorset, where 80 birds have died.
The H5N8 strain of bird flu has been confirmed in nine mute swans but testing stops once the presence of the disease has been established so it is not known how many have been struck by the disease. Usually 30-40 swans would be expected to die over a typical winter.
Measures are being taken to stop the disease spreading to poultry flocks but the 1,000 free-flying swans at Abbotsbury are wild and it is not possible to completely confine them.
Avian flu has been detected in poultry flocks from Lincolnshire to south-west Wales and as far north as Yorkshire as well as in wild birds across the country.
surender gupta dunar reference link: https://www.theguardian.com/world/2017/jan/09/bird-flu-outbreak-avian-influenza-h5n8-virus-abbotsbury-swannery-dorset